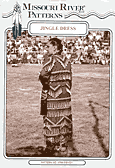 Pattern, Jingle Dress
Missouri River Brand Pattern
The Jingle Dress came into popularity during the 1920's among the OJibwa Nation of the Great Lakes area, in both the U.S. and Canada. It's popularity continued until the 1950's when it fell out of use for approximately 30 years, although a few women continued to wear the dress despite the fact that it was somewhat "out of style" during this time. Since 1980 it has grown in popularity and has now spread across the continent. It can be seen at powwows from Canada to Oklahoma and from Washington to Florida, being popular among many different tribes today.
Our pattern presents a contemporary style Jingle Dress along with several ideas for variations in construction and trim, as no two Jingle dresses are ever made alike. Along with this great increase in popularity, the style of the dress and placement of the Jingles, as well as the style of dancing has changed. Now, the fancy steps and body movements similar to those of the Fancy Shawl dancer have come into vogue among Jingle Dress dancers. These Jingles produce a distinct and pleasant ringing sound as they strike each other with the movement of the dancer.
The outfit is accented with beaded leggings and moccasins, a belt (beaded, concho, or tack), a choker, and/or a scarf with scarf slide, a bag or purse, a feather wing or tail fan, braid or hair ties, and occasionally a small pair of cuffs.
The dance style is described quite accurately in the powwow program from Red Earth 89: 'This is an example of a very old dance which held a very spiritual meaning, though that meaning is somewhat clouded by time. The Jingle dress is not only very colorful but provides much of the musical accompaniment for the dance. Few dances can match the sheer brilliance of costume and sound of the Jingle dress dance. Dance steps and body movements which are not in time to the music are easily detected because of the music of the dress itself. Pride and grace is demanded in the attitude of the dancer, a certain reverence should be exhibited."