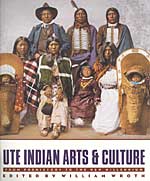 Ute Indian Arts & Culture
From Prehistory to the New Millennium
The Ute tribes whose arts and culture are the focus of this handsome book are mountain people centered in Colorado with territory extending into New Mexico and Utah. The essays collected here are contributed by Ute cultural leaders and by other scholars. They reveal the richness of Ute material culture, heretofore almost unknown, in groundbreaking studies of Ute prehistory, history, world view, culture, and art. The book is illustrated with color photographs of 139 historic artifacts and over 40 contemporary works, as well as numerous historic photographs of Ute life.
Ute Indian Arts and Culture accompanies an exhibition that is the culmination of a seven-year project that included an inventory of approximately 2,000 objects of Ute origin or attribution found in more than twenty museums around the United States. The project goal is to make Ute Indian history and culture better known to the public at large and to take a first step toward identifying Ute art forms, which have not previously been clearly distinguished in the literature or in museum collections. Another goal has been to make available to a younger generation of Utes visual and written information about their heritage.
Matoska Trading Company Notes

This is one of the better catalogs of Native American art that has been published in recent years. There are photos of great leggings, moccasins, pipebags, dresses, parfleche, and other items. We've not really had the time to review the text, but the artifact and historical photos are excellent. We have some reservations as to whether all the items attributed to the Utes are accurate. Some appear to be Cheyenne and others Lakota, but it makes for an interesting discussion none the less as accurately identifying objects as being Ute is difficult anyway. Hence, this book!
248 pp ~ 139 color photos — ©2001