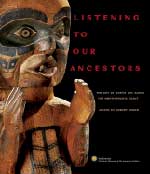 Listening to Our Ancestors
The Art of Native Life Along the Pacific Northwest Coast
Illustrated with never-before-published artifacts from the unique treasures in the museum's Northwest Coast collections, "Listening to Our Ancestors profiles native communities of the Pacific Northwest and showcases the region's rich cultural history and artwork.
Sophisticated in conception and execution and rich with symbolism, the totem poles, painted housefronts, masks, dance regalia, feast bowls, and elaborately decorated boxes made by the native people of the North Pacific Coast have long been recognized as masterworks of art. Here, in a series of community self-portraits, cultural figures from eleven Northwest Coast nations discuss the ways in which these masterpieces, as well as everyday tools and utensils from the museum's collections, connect them with their forbears, who made and used these beautiful objects. Kwakwaka'wakw Chief Robert Joseph and the community curators contrast the approach anthropologists and art historians have taken to the treasures of the Northwest with Native people's perspective on their cultural legacy. In addition, Mary Jane Lenz explores the Northwest as a crossroads of native and non-native worlds in the nineteenth and early twentieth centuries, when many of these works were collected, and today.
With its striking images and community self-portraits, "Listening to Our Ancestors invites readers to appreciate Northwest Coast art as its native inheritors do--for the spirit with which it is endowed.
Official companion to the exhibition opening at the National Museum of the American Indian in November 2005.
192 pp — ©2005