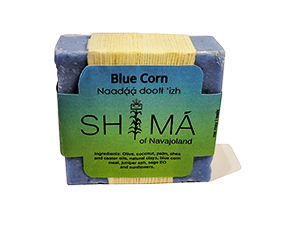 Shima Soap - Blue Corn

Made with blue corn, sage and other high-desert herbs, oils and wildflowers all grown on ancestral land. It is mixed with juniper ash, just as it is mixed for special gatherings and ceremonies, to give it a deep blue color. The soap is wrapped with corn husk and the wrapper has the Navajo Blessingway Prayer printed on every bar.

Ingredients: olive oil, coconut oil, water, palm oil, sodium hydroxide, sage essential oil, pinion infused oil, castor oil, shea butter, sunflower petals, ground blue corn, cosmetic-quality ultramarine as natural colorant.