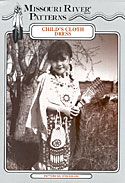 Pattern, Child's Cloth Dress
Missouri River Brand Pattern
Plains Indian girl's clothing styles have remained basically unchanged over the last 100 years or so, and this conservative attitude is reflected in dress styles being straight cut and rather long in comparison with today's standards. Our pattern presents a traditional style cloth dress that was popular among most of the Plains tribes from Texas to Canada and can be used as an everyday camp dress, or as a dance dress when combined with all the required dance accessories.
Materials for dresses of this sort varied from a light cotton calico, which was most popular for everyday wear, to the fancier and more expensive satins, taffeta, or even velvet, when used for dancing or formal occasions.
Our pattern will make a basic Comanche or Sioux style dress and information is included to allow easy modification to any of the following styles: Blackfoot. Crow, Cheyenne, Kiowa, Kiowa-Apache, or Plateau. Also includ-ed is information on layout and cutting, ideas on ribbon placement, tribal variations, and highly detailed, illustrated instructions for assembly.
This is a very practical pattern for making an authentic dress for growing children, as it is easy to make, and much less expensive than making a buckskin dress. Additionally, since the length can vary from mid-calf to ankle, you can make the dress longer at first, and it can still be worn for a time as they grow.
For additional ideas on design variations, we strongly recommend that you visit your local museums and examine existing specimens. It is also advisable to study old photographs as well as the fine photos found in museum collections and published in various Indian craft magazines and exhibition catalogs such as "Dancing Colors", "Powwow" by George P Horse Capture, and "Powwow Country" by Chris Roberts.