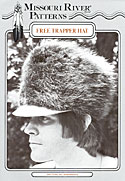 Pattern, Free Trapper Hat
Missouri River Brand Pattern
The "Free Trappers" were those hearty Mountain Men who owed allegiance to no man or Fur Company. They were true "Free Spirits" and this was often reflected in the construction and decoration of their headgear, as shown in paintings of the period by such artists as Alfred Jacob Miller, George Catlin and Frederick Remington.
Fur hats were made from almost all of the fur bearing animals found in the Rockies and Sierras, such as coyotes, wolves, foxes, badgers, skunks, bears, beavers and raccoons. Since the owner usually wanted something to admire as well as something that was functional, we find many styles, and even more different types of decorations. Some had tails, others used faces of the hides, some had both, and occasionally the paws and claws were left on as added decorations.
Our pattern lists many suggestions for variations and decorations and will allow you to produce a hat that is uniquely and individually yours.