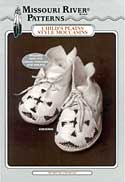 Pattern, Child's Plains Moccasins
Missouri River Brand Pattern
The Indians of the Plains and Plateau areas, men, women and children alike, wore this very basic, hardsole type moccasin which was developed out of necessity as protection from the hard, and sometimes rocky ground of the prairie that was their home. Normally constructed with soft tanned elk or buckskin uppers and supple, but tough rawhide soles, they represent the most highly refined form of Native American footwear. Today they remain a popular style of moccasin and are both comfortable and durable for dancing, camping or everyday wear.

Since the Cheyenne moccasin makers have been the acknowledged masters of the art for years, we have chosen to present the typical Cheyenne style of cut and construction in this pattern. Other tribal variations are shown in examples on this cover sheet as well as the instructions themselves and are easily adapted using this basic hardsole moccasin design.

The two most challenging aspects of moccasin making are achieving a proper fit and an authentic style. The highly detailed instructions, illustrations and other information contained in this pattern represent many years of research and "hands-on" learning of how to make moccasins the Indian way. We would like to extend our deepest appreciation to Nellie Stevens, Barry Hardin and Carl Jennings for their generous assistance in the development of this pattern.

Includes sizing for infants, toddler sizes 5,7,9,10, and child's 4, 5, and 6.