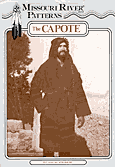 Pattern, The Capote
Missouri River Brand Pattern
Called "Capote" after the French word for "Hood", blanket coats like this originated in Central Canada and were probably made as early as 1675. This popular style coat was standard issue during the French & Indian War and the American Revolution and many times were made by the soldiers from issue blankets. By the mid-l9th century, the popularity of the Capote had spread westward with the fur trade and it was commonly seen in use by the Indians of the Northern Plains, Rocky Mountains and Columbian Plateau. There were also many commercially made Capotes available. For instance, in 1824, a St. Louis newspaper carried an ad from an outfitter listing "Red Blanket Coats for Sale".
Since many Capotes were "Home-made", they varied greatly in cut, style and decoration, with the Indian models being decorated with beadwork, sequins, hawk bells, binding of a contrasting color, etc. Some Capotes even contained a cotton lining of calico or similar print fabric; however, most examples were hardly decorated other than having fringe at the shoulders and hood.
This practical coat is as popular with today's Buckskinners & Indian Enthusiasts as it was in previous times. No doubt this is due to the great versatility of the garment as well as its colorful style. When made from a heavy Witney or Hudson Bay Blanket, it will shed light rain or snow, can be worn over several layers of clothing in extreme cold weather and can double as an extra blanket if needed. This light, warm and comfortable Capote, complete with hood is a pleasure to own and use.