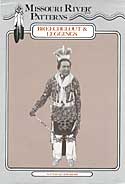 Pattern, Breechclout & Leggings
Missouri River Brand Pattern
The Breechclout is a necessary article of clothing that was common to the vast majority of tribes in North America and was worn by virtually all of the Plains People. Early clouts were made from hide, but with the introduction of trade cloth, the buckskin styles rapidly disappeared. Gen-erally, Northern Plains Tribes preferred a breechclout that was quite long in front, while Southern & Central Plains groups wore shorter styles that reached to the knee or mid-calf at the longest in front and tended to be a bit shorter in the back.
Decorations run the gamut from none at all to very elaborate, including ribbonwork, sequins, metallic fringe, tin cones, fluffs, beaded medallions, applique beadwork, quillwork and many other items.
As for the leggings, skin leggings were generally made using a single deer hide for each leg and were the earliest form of plains leg covering. Common from the Northern to the Southern Plains, they varied in cut and ornamentation from tribe to tribe. When cloth was introduced by white traders, this material generally replaced hide as legging material among most tribes although the Comanche and Kiowa have always seemed to prefer buckskin leggings. By the mid-19th century, wool blanket material or broadcloth (Tradecloth) was very much in vogue and continues to be the case to a among the Oklahoma Straight Dancer, who prefers leggings of rainbow selvedge edge broadcloth. The pattern shows the proper way of cutting these as well.