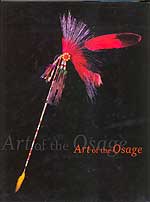 Art of the Osage
The Osage people, who have flourished in several locations and within a multiplicity of environments in the American Midwest, have infused their arts with an aesthetic vigor bound to an exquisite simplicity. Art of the Osage, the first comprehensive presentation of the art of the Osage people, explores the interconnections among their material culture, social organization, cosmology, aesthetics, and rituals.
This volume draws together over two centuries' worth of Osage art, tracing the patterns of Osage life and culture as they existed from contact to the present. The Osage people thrived in the central Mississippi Valley fur trade from the late seventeenth through the early nineteenth centuries, were forcibly relocated into northern Oklahoma in the nineteenth century, and prospered again from mineral and oil wealth in the twentieth century.
As with other civilizations that have balanced abundance with hardship, the Osage experience yielded a highly refined artistic tradition, rich in meaning and complex in its commitment to utility. Cradle boards, headdresses, riding quirts and war clubs, beadwork and ribbon work, blankets, peyote fans, rattles, wedding garments, and dance costumes display the range and beauty of Osage material culture. In contrast to many other Native American artistic traditions, Osage art has never been commercialized: artisans have typically made items only for members of their families or other members of the Osage community.
Although contemporary Osage art shows direct continuity in decorative motifs and basic forms with early historic Osage art, it is still a dynamic and evolving artistic tradition. Uninfluenced by external market forces, it represents one of a declining number of true indigenous living artistic traditions. The works illustrated here reveal the bold yet subtle aesthetic of Osage art, one of the most distinctive and significant Native artistic traditions in the United States.
221 pp ~ illustrated — ©2004