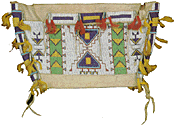 Probably Lakota, late 19th century. From:
Indianer Des Westens Nordamerikas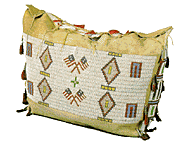 Lakota or Nakota
Late 19th to early 20th century From:
The Flag in American Indian Art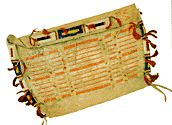 Probably Lakota, late 19th century. From:
The Plains Indians



Possible bags from the David T. Vernon Collection - Housed in the Grand Teton National Park Visitor Center

Possible Bags from
The Denver Art Museum
We're using "possible bags" as a metaphor for our shopping cart (that's more fun, isn't it?). While we could write our own description of possible bags, a quote from page 70 of The Flag in American Indian Art says it well:

"Possible bag was the name given by early nineteenth-century traders to these rectangular soft-skin bags. The term is a direct translation from the Indian word meaning 'a bag for every possible thing' (Conn 1979, p.152*). A more accurate term might be storage or tipi bag, as these containers held personal items and were placed around the inside of the tipi where they doubled as pillows. When moving camp, possible bags were hung in pairs on either side of a saddle where their sumptuous decoration could be admired."

*Richard Conn. Native Art in the Denver Art Museum. Denver Art Museum in association with University of Washington Press, 1979.

Possible bags vary in size but are typically about 15-22" wide and 10-15" high. They were almost always made in matching pairs. They seem to be most prevalent among the Northern Plains tribes. Possible bags can be seen in these Crow tipis:

Photo by Richard Throssel - 1907
Crow Indian Photographer

Photo by Fred E. Miller - around 1905
Fred E. Miller: Photographer of the Crows
(out of print)

Note that while the photos are of Crow tipi interiors, the bags are not necessarily made by Crows. Some are quite possibly of Lakota origin. It was common for people in one tribal group to own items made by another. Items were obtained by sale and trade as well as from battle.