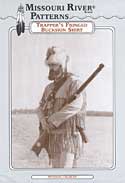 Pattern, Trapper's Buckskin Shirt
Missouri River Brand Pattern
Trappers were fairly simple and utilitarian. As their cloth garments wore out, they were naturally replaced with items made from brain-tanned buckskin, the material which was most readily available through trade with the Indians. Sketches and paintings from the period show a clear and consistent style, with long coats and trousers of Indian tanned leather being quite common. Although buckskin shirts were not as common as cloth shirts, they were a popular item and quite practical in the cold climates in which the mountain men earned their living.
For additional ideas on design variations, we strongly recommend that you study of paintings and drawings and visit museums and examine existing specimens. This will help make your garment unique and distinctly yours. Additional ideas for shirts and other trappers' garments can be found in the following books: The Book of Buckskinning Vol. 1-7, The 1837 Sketchbook of the Western Fur Trade, Where Two Worlds Meet, and The Mountain Man Sketchbook Vol. 1 & 2.
Also, The Museum of the Fur Trade, in Chadron Nebraska, has a fine collection of articles and clothing used by the mountain men.