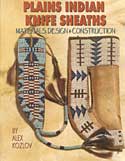 Plains Indian Knife Sheaths
Materials, Design & Construction
One of the best examples of Plains Indian craftsmanship is the beaded knife sheath, worn by men and women for both every day and ceremonial use. Plains Indian Knife Sheaths is a comprehensive, well-illustrated resources for anyone wishing to recreate or study the beautifully decorated Plains-style knife sheaths of the 19th and early 20h centuries.
Based on over 25 years of research and craftsmanship, the author describes the many styles and variations of Plain sheaths. This books Is loaded with complete step-by-step instructions, full illustrations, and numerous color photographs of sheaths produced by the author, plus actual Native American sheaths from both museum and private collections.
Detailed illustrations show common and atypical sheath shapes, bead layout patterns, construction techniques, and adding adornments such as tin cones, fringes, and beaded drops. Crafters can use this book to reproduce shea5ths that are unique, yet historically accurate. Plains Indian Knife Sheaths is a valuable resource for the crafter, collector, and Native American researcher.
64 pp ~ illustrated — ©2005