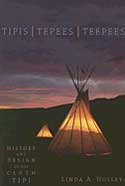 Tipis, Tepees, Teepees
From the first tipis made of buffalo or elk hide to the cloth tipis of today, Tipis, Tepees, Teepes is a fresh look at the rich history and evolution of this ancient dwelling that has been used since the dawn of human civilization. Today, tipis can be found all over the world-from North America to Asia to Australia-in dozens of cultures.
Tipis are currently experiencing a resurgence in popularity because of their unique qualities. They are comfortable to live in for long periods, durable, weather resistant, and easy to transport. New synthetic materials and innovative construction techniques make tipis adaptable to a variety of climates and living conditions.
Considerations when buying a new or used tipi are reviewed, and, for the more adventuresome, step-by-step instructions detail how to construct a well-built tipi. Different tipi styles, materials to make a tipi, and ways to decorate a tipi are explored. A plethora of drawings, diagrams, and photographs take the guesswork out of the process. In addition, ways to care for a tipi, transport a tipi, and pitch a tipi are also explored. Allow your mind to be opened up to the romance of the beautiful tipi; allow your heart to be opened to a life closer to the land. Tipis were a vital part of the cultures of prehistoric peoples and they offer the same benefits to us today.
Linda A. Holley has spent most of her life studying tipis and Native American culture. She graduated from Florida State University with a BS and MS in Art Education/Constructive Design. In 1970, she became an art, science, and history teacher, but she is now retired after thirty-four years. She has over thirty years of experience making tipis.
240 pp ~ illustrated — ©2007