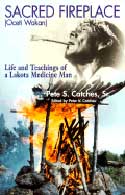 Sacred Fireplace
Life and Teachings of a Lakota Medicine Man
The sacred fireplace ("Oceti Wakan") is a vision shared by Peter Catches, Sr. ("Petaga Yuha Mani") and his son Peter Catches ("Zintkala Oyate"), both Spotted Eagle medicine men of the Oglala Lakota. Oceti Wakan represents a commitment to cultural and spiritual revitalization in response to events that have devastated the Lakota over the past six generations.
The Catches' dream of cultural revitalization -- encompassing spiritual, physical, educational, and social and economic development dimensions -- is focused on creating a place "for the healing of the family as a whole by rekindling Lakota spiritual values and culture." Sacred Fireplace is part of the elder Peter Catches' contribution to making his vision a concrete reality. A healer and teacher, Petaga Yuha Mani ("Walks with Hot Coals") was credited with reviving the Sun Dance ceremony among the Lakota and bringing knowledge of the Spotted Eagle Way of medicine to thousands of Native Americans and non-Natives alike. This book, long awaited by those who knew Peter Catches, Sr., and his work, is a major legacy of his exemplary life and the essence of his teachings in his own words.
Peter Catches lived on the Pine Ridge Reservation in South Dakota throughout his life, and for decades healed and instructed both Indians and non-Indians near his home and off the reservation. The book describes his struggles to embrace Lakota traditions and language, as well as the Spotted Eagle medicine way. It offers reflections on the history and culture of his people and on his own life, together with Lakota stories and legends, and accounts of healings, his personal visions, and basic traditions of Native American spirituality.
250 pp — ©1999