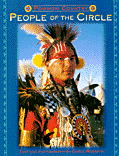 People of the Circle
American Indians, brilliantly photographed for this book, reveal a stimulating and inspiring culture. Chris Roberts turns his camera artistry on proud people who gather at powwows from coast to coast throughout each year. Here generations of families come together, infants in their parents' arms, older, laughing, bright-eyed children, teenagers, adults, and revered elders all lending exuberant homage to their native ways. These people share a vital, living tradition that centers on dancing in dazzling, multicolored regalia at powwows. Above all, these celebrations are culturally enriching, exciting social gatherings. These people of the circle come together to visit, talk, place games, eat, and give each other gifts. The re-establish old bonds and create new ones ensuring the continuation of a culture. It's a feast for the mind and heart that all those present share in. This book allows you to share the powwow experience, to feel the strength that emanates from the circle.
Chris Roberts has been a dancer at powwows for over thirty years. This participation gives him the insight to make memorable images which truly capture the essence of this event.
An outstanding collection of powwow photographs which truly captures the spirit of the dance! Highly recommended.
128 pp ~ 141 color photos — ©1998