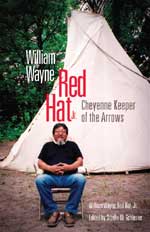 William Wayne Red Hat, Jr.
Cheyenne Keeper of the Arrows
As Keeper of the Arrows, William Wayne Red Hat, Jr., is charged with protecting one of the most sacred possessions of the Cheyenne people and serves his tribe as a revered cultural authority. The Arrow Keeper also oversees and maintains the tribe's spiritual connection to the land.
Sibylle Schlesier—whose father, anthropologist Karl Schlesier, was a close associate of Red Hat's family—recorded and transcribed this memoir of Bill Red Hat's life. Through his words, we meet an intelligent, humble man who cares deeply about the perpetuation of his people's cultural identity and the preservation of their beliefs. His descriptions of ceremonies and traditions will serve as a guide to help keep them alive for posterity. Red Hat conveys an oral tradition that preserves stories and memories of his people as well as accounts of historical events passed down within his family.
William Wayne Red Hat, Jr., served two tours in Vietnam as a member of the Marine Corps, earning a Purple Heart and numerous other awards and medals. After working for various aircraft companies in Wichita, Kansas, Red Hat aided his grandfather Edward Red Hat in his duties as Keeper of the Arrows. In 1993, Red Hat himself became Arrow Keeper. He now lives with his wife, Nellie, and their extended family near Longdale, Oklahoma. Sibylle M. Schlesier holds a Ph.D. in English from the University of New Mexico and has taught German and English at UNM and Native American Literature at the Southwestern Indian Polytechnic Institute. Currently she teaches German at Albuquerque Academy, a private secondary school. She has written articles for several Austrian and German publications.
176 pp ~ illustrated — ©2008