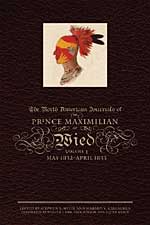 The North American Journals of Prince Maximilian of Wied
Volume I: May 1832–April 1833
Made famous through the paintings of Swiss artist Karl Bodmer, the North American expedition of German naturalist Prince Maximilian of Wied in 1832–34 was the first scientific exploration of the Missouri River's upper reaches since the epic journey of Lewis and Clark almost thirty years earlier. Maximilian's journal has never been presented fully in English—until now. This collector's-quality, oversized volume, the first of a three-volume set, draws on the Maximilian-Bodmer Collection at Joslyn Art Museum in Omaha, Nebraska.
The North American Journals offer an incomparable view of the upper Missouri and its Native peoples at a pivotal moment in the history of the American West. This meticulous account, newly translated with extensive modern annotation, faithfully reproduces Maximilian's 110 drawings and watercolors as well as his own notes, asides, and appendices. Volume I, which covers May 1832 to April 1833, documents Maximilian's voyage to North America and his first encounters with Indians upon reaching the West. This is an essential resource for nineteenth-century western American history and a work of lasting value.
Prince Alexander Philip Maximilian (1782–1867) was an explorer, naturalist, and ethnologist from the city of Neuwied, Germany, who first won acclaim for his expedition to Brazil in 1815–17. Stephen S. Witte is Editorial Coordinator for the Maximilian Journals Project of the Margre H. Durham Center for Western Studies, Joslyn Art Museum. Marsha V. Gallagher, Curatorial Advisor for the Durham Center, has curated numerous exhibitions of western American art and is coauthor of Karl Bodmer's Eastern Views. William J. Orr, a foreign service officer with the U.S. State Department, has translated and edited numerous foreign-language documents pertaining to U.S. history. Paul Schach was Charles J. Mach University Professor in the Department of Modern Languages and Literatures, University of Nebraska, Lincoln. Dieter Karch, Professor of Modern Languages at the University of Nebraska, Lincoln, specializes in the history and dialects of the German language. John Wilson is Director of Curatorial Affairs, Joslyn Art Museum.
544 pp ~ illustrated — ©2008