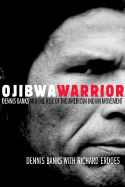 Ojibwa Warrior
Dennis Banks and the Rise of the American Indian Movement
Dennis Banks, an American Indian of the Ojibwa Tribe and a founder of the American Indian Movement, is one of the most influential Indian leaders of our time. In Ojibwa Warrior, written with acclaimed writer and photographer Richard Erdoes, Banks tells his own story for the first time and also traces the rise of the American Indian Movement (AIM). The authors present an insider's understanding of AIM protest events—the Trail of Broken Treaties march to Washington, D.C.; the resulting takeover of the BIA building; the riot at Custer, South Dakota; and the 1973 standoff at Wounded Knee. Enhancing the narrative are dramatic photographs, most taken by Richard Erdoes, depicting key people and events.
"[Banks's] retelling of these events reads as seamlessly as a great campfire story (or a well-edited oral transcript). He takes readers deep inside the traditional Sun Dances and Sweat Houses of his Ojibwa Tribe and deep into the action of the Trail of Broken Treaties. . . . [T]his volume [is] an important addition to the history of Native American and civil rights movements in the United States."—Publishers Weekly
Dennis Banks has been an activist, counselor, teacher, and consultant on American Indian rights. He now owns a natural foods company in Federal Dam, Minnesota, that follows the traditions of his youth. Richard Erdoes, Dennis's friend for more than thirty years, is an award-winning photographer, illustrator, and author of many books on American Indians. He resides in Santa Fe, New Mexico.
352 pp ~ illustrated — ©2005