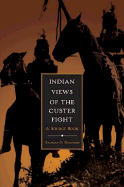 Indian Views of the Custer Fight
A Source Book
On June 25, 1876, in the valley of the Little Bighorn, Lt. Col. George Armstrong Custer and 262 soldiers of the Seventh Cavalry met defeat and death at the hands of an overwhelming force of Lakota and Cheyenne Indians. In this valuable source book, Richard G. Hardorff presents thirty-five interviews and statements from Indians who were eyewitnesses to the battle.
Here is the story of the battle as told from the vantage point of Lakota and Cheyennes, from the time at which the soldiers were first detected on their march toward the Indian settlement, to the bitter end, as the Indians packed up and moved their camps. Extracted from letters, newspaper articles, army reports, and manuscripts, these rare firsthand accounts—from such key participants as Crazy Horse, Crow King, Two Moons, and Turning Hawk—offer new perspectives on the 1876 events. Hardorff supplements the accounts with explanatory notes, background information about the combatants, and eight maps illustrating the positions of the fighters during the battle.
"By emphasizing Indian perspectives, Hardorff contributes to the reorientation of Indian wars history."—Brian W. Dippie, author of Custer's Last Stand: The Anatomy of an American Myth
Richard G. Hardorff is the author of numerous works on the Battle of the Little Bighorn, Custer, and the Plains Indians, including Lakota Recollections of the Custer Fight and Custer and the Little Bighorn. He resides in Genoa, Illinois.
240 pp — ©2005