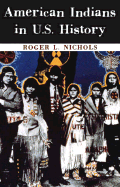 American Indians in U.S. History
Designed as a brief survey for students and general readers, American Indians in U.S. History addresses the histories of tribes throughout the entire United States. Offering insight into broad national historical patterns, this book explores the wide variety of tribes and relates many fascinating stories of individual and tribal determination, resilience, and long-term success. Charting Indian history in roughly chronological chapters, Roger L. Nichols presents the central issues tribal leaders faced during each era and demonstrates that, despite their frequently changing status, American Indians have maintained their cultures, identities, and many of their traditional lifeways. Far from vanishing or disappearing into the melting pot, American Indians have struggled for sovereignty and are today a larger, stronger part of the U.S. population than they have been in several decades.
Review Quotes:
"Absolutely a contribution to the field of American Indian history. While so many histories are now being written by journalists, lawyers, and TV news anchors, there is a tremendous need for general synthesis histories written by accomplished academicians such as Roger L. Nichols."
Contributor Bio:Roger L. Nichols is Professor of History at the University of Arizona and author of Indians in the United States and Canada: A Comparative History.
288 pp — ©2003