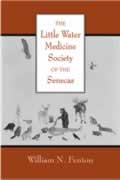 The Little Water Medicine Society of The Senecas
For the Seneca Iroquois Indians, song is a crucial means of renewing both medicine and heritage. Two or three times a year, the Little Water Medicine Society of western New York meets to renew the potency of its medicine bundles through singing. These bundles have been inherited from eighteenth century Iroquois war parties, handed down from generation to generation. In this long-awaited book, William N. Fenton describes the remarkable ceremonies of one of the least recorded but most significant medicine societies of the Iroquois Indians.
Most of the Senecas who were members of the Little Water Society, or Society of Shamans, have passed away, and their knowledge of ceremonial healing and spiritual renewal is fading. Fenton has written this book to preserve knowledge of the ceremonies and songs for the Iroquois people and as a contribution to anthropology, folklore, ethnomusicology, and American Indian studies. In The Little Water Medicine Society of the Senecas, he presents his original 1933 fieldwork, along with details from the published and unpublished works of other researchers, to describe rituals, poetry, and songs drawn from his more than six decades of research among the Six Nations.
256 pp ~ illustrated — ©2002