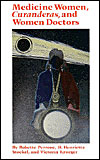 Medicine Women Curanderas and Women Doctors
The stories of ten women healers form the core of this provocative journey into cultural heaing methods utilized by women. In a truly grass-roots project, the authors take the reader along to listen to the voices of Native American medicine women, Southwest Hispanic curanderas, and women physicians as they describe their healing paths.
This book will fascinate anyone interested in the relationship between illness and healing-medical practitioners and historians, patients, anthropologists, feminists, physchologists, psychiatrists, theologians, sociologists, folklorists, and others who seek understanding about our relationship to the forces of both illness and healing.
272 pp — ©1993