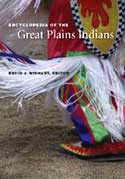 Encyclopedia of the Great Plains Indians
Until the last two centuries, the human landscapes of the Great Plains were shaped solely by Native Americans, and since then the region has continued to be defined by the enduring presence of its Indigenous peoples. The Encyclopedia of the Great Plains Indians offers a sweeping overview, across time and space, of this story in 123 entries drawn from the acclaimed Encyclopedia of the Great Plains, together with 23 new entries focusing on contemporary Plains Indians, and many new photographs.
Here are the peoples, places, processes, and events that have shaped lives of the Indians of the Great Plains from the beginnings of human habitation to the present—not only yesterday's wars, treaties, and traditions but also today's tribal colleges, casinos, and legal battles. In addition to entries on familiar names from the past like Sitting Bull and Crazy Horse, new entries on contemporary figures such as American Indian Movement spiritual leader Leonard Crow Dog and activists Russell Means and Leonard Peltier are included in the volume. Influential writer Vine Deloria Sr., Crow medicine woman Pretty Shield, Nakota blues-rock band Indigenous, and the Nebraska Indians baseball team are also among the entries in this comprehensive account. Anyone wanting to know about Plains Indians, past and present, will find this an authoritative and fascinating source.
David J. Wishart is a professor of geography at the University of Nebraska-Lincoln. In addition to editing the Encyclopedia of the Great Plains, he is the author of three other books, including An Unspeakable Sadness: The Dispossession of the Nebraska Indians
254 pp ~ illustrated — ©2007