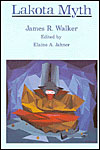 Lakota Myth
"A primary source of research and serious study. . .ethnology at its best."—American Indian Culture and Research Journal. "Elaine Jahner. . .is sensitive to the analysis of texts, sensitive to meanings hidden between the cracks of texts and correspondences, and sensitive and generous to the scholars—Sioux and non-Indian alike—who preceded her in collecting and analyzing the myths and cultural detail of the Teton Dakota Sioux."—Pacific Historical Review. "One of the major publications of American Indian myth."—Alice B. Kehoe, Reviews in Anthropology. "Lakota myth is an immensely interesting and provocative addition to the literature of the Plains Indians."—North Dakota History.
The papers of James R. Walker, physician to the Pine Ridge Sioux from 1896 to 1914, are noted for the information they have yielded about Lakota life and culture. This third volume of previously unpublished material from the Walker collection presents his work with Lakota myth and legend. Three categories of literature are represented: tales that are classic examples of Lakota oral literature, narratives that were known only to a few Oglala holy men, and Walker's literary cycle representing his attempts to systematize all he had learned about Lakota myth.
In her extensive introduction, Elaine A. Jahner addresses the textual problems and critical questions posed by the material and assesses its place in Indian and in world literature. Of prime importance to students of comparative literature, religion, and mythology, Lakota Myth takes its place alongside Lakota Belief and Ritual (1980) and Lakota Society (1982), both available as Bison Books, as an indispensable source for Lakota traditions.
428 pp — ©1989