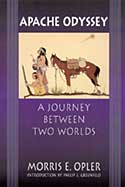 Apache Odyssey
A Journey between Two Worlds
In 1933, famed anthropologist Morris Opler met a Mescalero Apache he called Chris and worked with him to record the man's life story, from the bloody Apache Wars into the reservation years of the mid-twentieth century. Chris's vivid recollections are enriched at strategic moments with crucial background information on Apache history and culture, supplied by Opler.
Chris was born around 1880, the son of a Chiricahua man and a Mescalero woman. At the age of six, he and his family and other Chiricahua Apaches became prisoners of war and were relocated by the U.S. government to Florida and Alabama. Eventually settling on the Mescalero Apache reservation in New Mexico, Chris grew up expecting to become a shaman like his parents. Although Chris apprenticed as a shaman, his confidence in his healing ability waned after he was forced at the age of seventeen to attend federal government schools. Nonetheless, his interest in Mescalero religion, healing, and other traditional customs and beliefs remained, and that intimate knowledge of his people's world underscores and deepens the story of his own life.
Morris Opler was a professor of anthropology at the University of Oklahoma. His books include An Apache Life-way: The Economic, Social, and Religious Institutions of the Chiricahua Indians; Myths and Tales of the Chiricahua Apache Indians; and Myths and Tales of the Jicarilla Apache Indians, all available in Bison Books editions. Philip J. Greenfeld is a professor of anthropology at San Diego State University. His articles on Apache culture and linguistics have appeared in contributed volumes and in American Anthropologist, Anthropological Linguistics, International Journal of American Linguistics, and Ethos.
302 pp ~ illustrated — ©2002