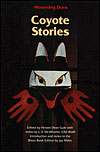 Coyote Stories
A powerful force and yet the butt of humor, the coyote figure runs through the folklore of many American Indian tribes. He can be held up as a "terrible example" of conduct, a model of what not to do, and yet admired for a careless. anarchistic energy that suggests unlimited possibilities. Mourning Dove, an Okanagan, knew him well from the legends handed down by her people. She preserved them for posterity in Coyote Stones, originally published in 1933.
Here is Coyote, the trickster, the selfish individualist, the imitator, the protean character who indifferently puts the finishing touches on a world soon to receive human beings. And here is Mole, his long-suffering wife, and all the other Animal People, including Fox, Chipmunk, Owl-Woman, Rattlesnake, Grizzly Bear, Porcupine, and Chickadee. Here it is revealed why Skunk's tail is black and white, why Spider has such long legs, why Badger is so humble, and why Mosquito bites people. These entertaining, psychologically compelling stories will be welcomed by a wide spectrum of readers.
Jay Miller has supplied an introduction and notes for this Bison Books edition and restored chapters that were deleted from the original.
— ©1990