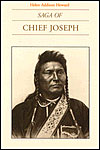 Saga of Chief Joseph
In Saga of Chief Joseph, Helen Addison Howard has written the definitive biography of the great Nez Perce chief, a diplomat among warriors. In times of war and peace, Chief Joseph exhibited gifts of the first rank. Even though he was a leader for peace and tribal liberty, he was destined to see the defeat of his people in the Nez Perce War of 1877 and the loss of all that was important to them—their lands, their horses, and their independence. The struggle of the Nez Perces for the freedom they considered paramount in life constitutes one of the most dramatic episodes of Indian history.
This completely revised edition of the author's earlier War Chief Joseph presents in exciting detail the full story of Chief Joseph, with a reevaluation of the five bands engaged in the Nez Perce War, objectively told from the Indian, the white military, and the settlers' points of view. Especially valuable is the reappraisal, based on significant new material from Indian sources, of Joseph as a war leader. Of War Chief Joseph, reviewers said: "A priceless contribution to the history of a great and noble race" (Los Angeles Times); "A stirring and dramatic biography of a great man (Montreal Star); "This work . . . is a standard in the field" (Choice Books for College Libraries).
A western writer whose stories and historical and general articles have been published in magazines throughout the country, Helen Addison Howard is also the author of Northwest Trail Blazers.
399 pp — ©1978