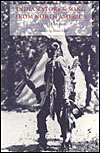 Indian Story and Song from North America
"Music enveloped the Indian's individual and social life like an atmosphere."—Alice C. Fletcher.
Anthropologist Alice C. Fletcher (1838–1923) was a pioneer in the study of Indian music. Originally published in 1900, Indian Story and Song from North America came out of her fieldwork and friendship with the Omahas (among whom she lived), Poncas, Arapahoes, and other tribes. Fletcher provides the stories behind these songs and the scores for authentic Indian melodies in native language (which is also translated into English). They run the gamut of experience, from making war to making love.
Fletcher writes: "Universal use of music was because of the belief that it was a medium of communication between man and the unseen. The invisible voice could reach the invisible power that permeates all nature, animating all natural forms. As success depended upon help from this mysterious power, in every avocation, in every undertaking, and in every ceremonial, the Indian appealed to this power through song." When hunting, he sang to insure the aid of the unseen power in capturing game. When confronting danger and death, he sang for strength to meet his fate unflinchingly. In using herbs to heal, the men and women sang to bring the required efficacy. When planting they sang for abundant harvest. In their sports, courtship, and mourning, song increased pleasure and comforted sorrow. All occasions for singing are covered in this volume.
The achievement of Alice Fletcher is discussed in an introduction by Helen Myers, associate professor of music at Trinity College and ethnomusicology editor of the New Grove Dictionary of Music and Musicians.
— ©1995