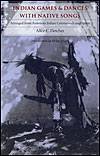 Indian Games and Dances with Native Songs
Arranged from American Indian Ceremonials and Sports
One day Alice C. Fletcher realized that "unlike my Indian friends, I was an alien, a stranger in my native land." But while living with the Indians and pursuing her ethnological studies she felt that "the plants, the trees, the clouds and all things had become vocal with human hopes, fears, and supplications." This famous statement comes directly from the preface of this book and was later etched on her tombstone. "I have arranged these dances and games with native songs in order that our young people may recognize, enjoy and share in the spirit of the olden life upon this continent," she wrote.
Indian Games and Dances with Native Songs is a collection that conveys the pleasure and meaning of music and play and rhythmic movement for American Indians. Many of the activities here described are adapted from ceremonials and sports. Included is a "drama in five dances" celebrating the life of corn. "Calling the Flowers" is an appeal to spirits dwelling underground to join the dancers. Still another dramatic dance, with accompanying songs, petitions clouds to leave the sky. The Festival of Joy, an ancient Omaha ceremony, is centered on a sacred tree. In the second part Indian ball games and games of hazard and guessing are set forth, as well as the popular hoop and javelin game. Fletcher closes with a section on Indian names.
Alice C. Fletcher, the foremost woman anthropologist in the United States in the nineteenth century, is also the author, with Francis La Flesche, of A Study of Omaha Indian Music and the two-volume Omaha Tribe. Both titles are available as Bison Books.
Helen Myers is the coauthor of Folk Music in the United States: An Introduction.
139 pp — ©1994