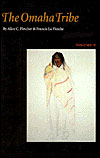 The Omaha Tribe, Volume 2
Originally published in 1911 by the Bureau of American Ethnology, The Omaha Tribe is an irreplaceable classic, the collaboration of a pioneering anthropologist and a prominent Omaha ethnologist.
Volume II takes up the language, social life, music, religion, warfare, healing practices, and death and burial customs of the Omahas. The first volume covered tribal origins and early history, organization and government, various beliefs and rites, and food gathering.
Alice C. Fletcher was the foremost woman anthropologist in the United Stares in the nineteenth century. Francis La Flesche, a member of the Omaha tribe, worked closely with Alice Fletcher for many years and in addition produced ethnological studies of his own. His autobiographical account The Middle Five: Indian Schoolboys of the Omaha Tribe is also available as a Bison Book.
— ©1992