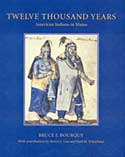 Twelve Thousand Years
American Indians in Maine
"Clearly written, accessible, and scholarly, this handsome book covers the history of Maine Indians from the first occupants of 11,500 years ago to 1776. Excellent and attractive maps, photographs, and illustrations from archival sources genuinely enhance the text."--Choice. "A pioneering work of ambitious scope. . . . This substantial book is a significant contribution to the field."--Connecticut Review.
"Drawing upon diverse sources and incorporating various archival materials and museum collections, Bourque attests to a formerly underappreciated cultural dynamism that resulted from extensive interaction with groups throughout the peninsula. The substantial appendix on traditional material culture is richly detailed with ethnohistorical accounts and illustrations of wigwams, canoes, and dress. The prose is scholarly but accessible to the lay reader."--Library Journal.
Twelve Thousand Years: American Indians in Maine documents the generations of Native peoples who for twelve millennia have moved through and eventually settled along the rocky coast, rivers, lakes, valleys, and mountains of a region now known as Maine. Arriving first to this area were Paleo-Indian peoples, followed by maritime hunters, more immigrants, then a revival of maritime cultures. Beginning in the sixteenth century, Native peoples in northern New England became tangled in the far-reaching affairs of European explorers and colonists. Twelve Thousand Years reveals how Penobscots, Abenakis, Passamaquoddies, Maliseets, Micmacs, and other Native communities both strategically accommodated and overtly resisted European and American encroachments. Since that time, Native communities in Maine have endured, adapted when necessary, and experienced a political and cultural revitalization in recent decades.
Bruce J. Bourque is chief archaeologist and curator of ethnography at the Maine State Museum and senior lecturer in anthropology at Bates College. His books include Diversity and Complexity in Prehistoric Maritime Societies: A Gulf of Maine Perspective. Steven L. Cox is a professor of anthropology at the Center for Northern Studies and a research associate at the Maine State Museum. Author of The Old Man Told Us: Excerpts from Micmac History, 1500–1950, Ruth H. Whitehead was a research associate at the Nova Scotia Museum.
388 pp ~ illustrated — ©2001