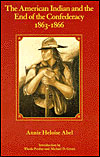 The American Indian and the End of the Confederacy, 1863-1866
Late in April 1861, President Lincoln ordered Federal troops to evacuate forts in Indian Territory. That left the Five Civilized Tribes—Cherokees, Chickasaws, Choctaws, Creeks, and Seminoles—essentially under Confederate jurisdiction and control. The American Indian and the End of the Confederacy, 1863–1866, spans the closing years of the Civil War, when Southern fortunes were waning, and the immediate postwar period.
Annie Heloise Abel shows the extreme vulnerability of the Indians caught between two warring sides. "The failure of the United States government to afford to the southern Indians the protection solemnly guaranteed by treaty stipulations had been the great cause of their entering into an alliance with The Confederacy, "she writes. Her classic book, originally published in 1925 as the third volume of The Slaveholding Indians, makes clear how the Indians became the victims of uprootedness and privation, pillaging, government mismanagement, and, finally, a deceptive treaty for reconstruction.
Annie Heloise Abel (1873–1947) was a historical editor and writer of books dealing mainly with the trans-Mississippi West. The other two volumes of her trilogy, The American Indian as Slaveholder and Secessionist (1915) and The American Indian in the Civil War, 1862–1865 (1919), have also been reprinted as Bison Books. Theda Perdue and Michael D. Green, professors of history at the University of Kentucky, have provided an introduction.
419 pp — ©1993