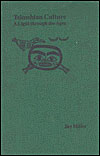 Tsimshian Culture
A Light Through the Ages
The Tsimshians are a Northwest Coast native people known for their dazzling works of art and rich array of social, religious, and oral traditions that have captured the attention of scholars for over a century. Jay Miller brings together for the first time a wealth of material about the Tsimshians, presenting an unforgettable picture of their whole cultural universe. That universe is built around the metaphor of light, which was brought into the world by Raven; its refraction forms the chief social, religious, and symbolic institutions of Tsimshian culture. Family heraldic crests express light in one way, masks in another. Miller argues convincingly that the genius of Tsimshian culture, and one of the main reasons for its continuing vitality, is that its people are sensitive to different, and often creative, ways of capturing and embodying light.
"This work will prove to be a major contribution to Tsimshianic and North Pacific Coast Studies, and perhaps to symbolic and comparative religion studies as well. It integrates all of the prior major scholarship in Tsimshianic studies. . . . Its contribution is unique."—John Dunn, author of A Reference Grammar for the Coast Tsimshian Language.
Jay Miller is the editor of Mourning Dove, A Salishan Autobiography (Nebraska 1991) and the author of Shamanic Odyssey: The Lushootseed Journey to the Land of the Dead.
— ©1997