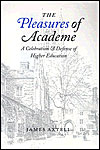 The Pleasures of Academe
A Celebration and Defense of Higher Education
"Axtell is good company. . . . [His] tribute to his life is a welcome, almost necessary reminder that to work in a university can be enjoyable and rewarding."—Times Literary Supplement. "[Axtell] responds particularly to those critics of higher education who attack faculty for their failure to increase teaching loads, neglecting to look at national studies or, more broadly, at the meaning of the university to American society. . . . With humor and affection, Axtell describes the wholeness of academic life and the community of scholars who contribute to student learning and increase human knowledge."—Library Journal. "[B]efore urging legislators to make deeper cuts in university funding, readers should attend to Axtell's vigorous defense of the nation's colleges and universities. . . . [His] message will renew confidence in the promise of education."—Booklist.
In this timely book, historian James Axtell offers a compelling defense of higher education. Drawing on national statistics, broad-ranging scholarship, and delightful anecdotes, Axtell reminds us of the dedication of professors and the increasing demands placed on them. He describes the professorial work cycle, the evolution of scholarship in the past three decades, the importance of "habitual scholarship," and the best ways to judge a university. He persuasively confronts the critics of higher education, arguing that they have perpetuated misunderstandings of tenure, research, teaching, curricular change, and professorial politics.
James Axtell is William R. Kenan Jr. Professor of Humanities at the College of William and Mary. He is the author of numerous books, including the award-winning The Invasion Within: The Contest of Cultures in Colonial North America.
— ©1998