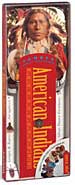 American Indians Fandex
This is a great item to teach Native American culture and history to children and adults alike. It consists of a deck of 50 custom cut cards, each covering a different topic. The cards are in the shape of the item or person shown. The deck is pinned together so the cards won't get lost. This is a fun learning tool to take with you on road trips as an activity for the kids. It's a very cool little item!
Covering a subject that is taught in school and embraced by students, "American Indians" functions like a pocket visual encyclopedia of the history, culture, and customs of fifty major tribes across North America. Written by the former director of public affairs of the Smithsonian Institution's National Museum of the American Indian, the deck covers geographical origins, myths and religious beliefs, important people and historical events, arts, festivals, and contemporary issues. The mysterious Anasazi. The democratic Iroquois. The friendly Wampanoags, who helped create the holiday we know as Thanksgiving. Elaborate rites of the Hopi. All illustrated with portraits, historic photographs, artifacts, tribal artwork, and other images.
50 pp ~ illustrated — ©2002