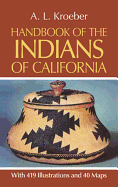 Handbook of the Indians of California
The Indians of California, in their ethnographic present, offered the widest range to be found in any area of the United States. In the north they approximated the cultures of the Northwest Coast; in the center they developed distinctive, elaborate cultures based on local food supplies; and on the south and east they approximated the more primitive desert groups -- all in all showing a host of adaptations within a relatively small geographical area. In addition, despite successive decimations by missionaries, colonial administrations, settlers and exploiters, enough Indians survived (though sometimes only a couple for each group) to make their study possible. For these reasons they have long been an important topic in anthropological circles.
This monumental work from a foremost American anthropologist includes demographics, linguistic relations, social structures, folkways, religion, material culture, and much more. Includes surveys of the Yurok, Pomo, Maidu, Yokuts, and Mohave receiving most attention. A remarkable piece of organization and exposition, the volume includes 479 illustrations and 40 maps.
A. L. Kroeber (1876-1960) was professor of anthropology at the University of California at Berkeley and director of what is now called the Phoebe A. Hearst Museum of Anthropology. He was best known for making connections between the field of archaeology and culture and is credited with developing the concepts of culture area, cultural configuration, and cultural fatigue. He is the author of numerous books including "The Religion of the Indians of California" and "Indian Myths of South Central California".
1120 pp ~ illustrated — ©2012