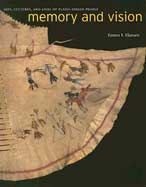 Memory and Vision
Arts, Cultures, and Lives of Plains Indian People
The story of the Native peoples of the Great Plains – including the Arapaho, Cheyenne, Lakota, Shoshone, Blackfeet, Kiowa, Pawnee, Arikara, Gros Ventre, Assiniboine, Mandan, Hidatsa, and Crow tribes – is illustrated in over 250 full-color images, from traditional feather bonnets to war shirts, bear claw necklaces, pipe tomahawks, beadwork, and quillwork, as well as archival photographs of historical events and individuals, and photographs of contemporary Native life.
This is the first comprehensive publication of the collection held at the Plains Indian Museum of the Buffalo Bill Historical Center. An excellent book on one of the premier collections of Plains Indian art in the world.
Emma I. Hansen, a member of the Pawnee Nation, is curator of the Plains Indian Museum at the Buffalo Bill Historical Center in Cody, Wyoming.
319 pp ~ illustrated — ©2008