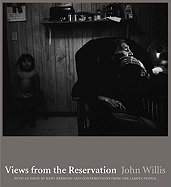 Views from the Reservation [With CD (Audio)]
Professor and photographer John Willis is well aware of the exploitation that sometimes occurs when photographers enter impoverished communities for a project. So, in 1992, when he first traveled to the Pine Ridge Indian Reservation in the southwest corner of South Dakota, he assured the elders of the Oglala Lakota Sioux that he would not be exhibiting any of the images he took while there. Over time, however, Willis earned the respect and trust of the community, and the elders--hoping that the photographs might bring aid to their community--urged him to show his work.
The product of several visits to the Pine Ridge Indian Reservation, "Views from the Reservation" is meant to open our eyes, minds, and hearts to the life, culture, and conditions of the Oglala Lakota people. With his insightful and complex images Willis enlists several other voices to offer a more complete story: writer Kent Nerburn, who contributes an original essay; Lakota elders and Pine Ridge High School students, who offer poems; Emil Her Many Horses, the associate curator of the National Museum of the American Indian, Kevin Gover, the Assistant Secretary of the Interior for Indian Affairs, and Oglala Lakota artist Dwayne Wilcox. Accompanying the book is "Heartbeat of the Rez," a compact disc collecting traditional songs compiled by the author, the elders, and KILI, the radio station of the reservation.
181 pp ~ illustrated — ©2010