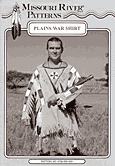 Pattern, Plains War Shirt
Missouri River Brand Pattern
"Among the Cheyenne, only the bravest of fighting men were entitled to wear "Metaxeszehen", the sacred scalp shirt. Sacred tradition links the origin of these shirts to Sweet Medicine, the Prophet, to whom Ma-heo-o Himself (Creator) first gave the Sacred Arrows and the Cheyenne code of law. Thus, the making of such a shirt, trimmed with hair from enemy scalps, was both a holy and solemn occasion. Only a warrior who himself possessed a scalp shirt could make one for another warrior.
Among the Lakotas & Oglalas, the Shirt Wearers (as they were called), were the men who best exemplified the four great Lakota virtues of compassion, generosity, bravery, and wisdom, and they must have undergone the four sacred Lakota ceremonies. They were the leaders and grand councilors of the tribe, and were required to advance first in battle and be ready to assist a comrade at all times. Along with these hard obligations went abundant protection for the Shirt Wearer, for the blessing of Ma-heo-o or Wakan Tanka (the Great Mysterious) rested upon these holy war shirts, as did the blessing of the lesser Sacred Powers as well. This holiness was reflected in their rich beauty, being painted with sacred colors and decorated with quilled or beaded strips with sacred designs. Thus, the owner of a war shirt had a possession not only of great beauty, but also filled with great power and in this way was abundantly blessed."
Father Peter J. Powell, noted Cheyenne historian
This pattern will help you create a beautiful war shirt in the tradition of those described above. Complete with information on the layout and cutting of a Sioux, Cheyenne-Arapaho, Blackfoot, or Crow style shirt, it also covers sewing, fringing, and decorating in the proper tribal styles. Produces a highly authentic war shirt with easy to follow instructions and complete illustrations on each step involved. Also included is a section of tips on work-ing with buckskin and other leathers.