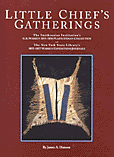 Little Chief's Gatherings
The Smithsonian Institutions G.K. Warren 1855-1856 Plains Indian Collection
LITTLE CHIEF'S GATHERINGS is the fascinating story of the Smithsonian Institution's Warren Collection, one of the earliest and largest scientific collections of Plains Indian material culture in existence. The Smithsonian Institution received this amazingly diverse and comprehensive gift from a young army lieutenant in 1856, before the American Civil War. Curiously, Gouverneur Kemble Warren never wrote or mentioned during his entire life where and how he had obtained such a significant assemblage.
Over the past 20 years, James A. Hanson has searched out every known piece of information about the material and the man who collected it, known to the Western Sioux as Little Chief. As Hanson's lucid text reveals, the author finally solved the mystery of the collection's origin and deduced why Warren shrouded that information in secrecy.
The first half of the book presents a synopsis of Warren's life, including his career as one of the Union army's most important generals. It also contains an analysis of the Plains Indian material he collected from the ruins of a Lakota or Sioux village after the Battle of Blue Water Creek in 1855, which shows that Lakota material culture included objects from both the northern and southern borders of the United States, and that it used sophisticated and diverse material, construction techniques, and designs.
The section concludes by showcasing in word and picture the Smithsonian Institution's entire Warren collection, much of which has not been seen by the public for over a century – Dozens of pony-beaded articles of clothing - dresses, leggings, a warshirt, a headdress, baby carriers, and moccasins, as well as quilled robes, trade blankets, tipi bags, pipes, a bow case, a complete set of horse gear, a knife sheath, children's toys including the earliest known Plains Indian doll, etc. – are illustrated. Precise measurements and notes on construction materials and techniques are provided, including previously unknown information on the use of commercial dyes, bird feathers, and plant materials for quillwork.
The second section of the book contains verbatim transcripts of Warren's diaries during his three years (1855-57) exploring the West. The original records are in the collection of the New York State Library. They contain important information about the Lakotas at the beginning of the Indian Wars. Warren attended numerous conferences with Plains tribes and recorded conversations with Indian leaders such as Little Thunder and Bear's Rib.
These documents contain significant material about the geography and the history of the West, including the fur trade, tribal populations and locations, steamboating on the Missouri, Hispanics on the High Plains, and Western trails. Warren was the first official explorer to enter and examine the Black Hills, a feat which has been incorrectly credited to Custer. Warren's original journals have never been published and are made available in print for the first time.
203 pp ~ 33 color photos ~ 58 b/w photos — ©1996