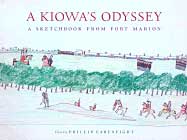 A Kiowa's Odyssey
A Sketchbook from Fort Marion
A Kiowa's Odyssey recreates a sketchbook of drawings that chronicle the experiences of seventy-two Southern Plains Indians captured by the U.S. Army in Oklahoma in 1875. To stem their ability to lead raids against white settlers, the army exiled these Arapaho, Comanche, Cheyenne, and Kiowa Indians more than 1,000 miles, by wagon, train, and steamboat, to Fort Marion, Florida. The prisoners, dazed by travel and unfamiliar surroundings, quickly found themselves subject to a process of Westernization and assimilation. Under the direction of Lieutenant Richard Henry Pratt, the Indians were made to adopt Western appearance, behavior, language, and beliefs. Pratt was a prominent advocate of Indian assimilation and many of the practices that he introduced at Fort Marion were subsequently institutionalized at the Carlisle Indian School in Pennsylvania, which he founded in 1879.
The thirty-two-page sketchbook illustrates the Indians' capture, their trek to Florida, and their years at Fort Marion. The drawings were made by Etahdleuh Doanmoe (Kiowa) at Fort Marion in 1877, possibly at the request of Lieutenant Pratt. While other sketchbooks from Fort Marion survive, this is the only one that adheres closely to Western historical narrative structure and for which Pratt provided typewritten captions. After Pratt's death, his son, Mason, reorganized the sketchbook into an album - A Kiowa's Odyssey - and supplemented it with a preface and photographs of Etahdleuh. Etahdleuh's drawings illuminate the historical consciousness of a warrior artist, but despite their importance, they have not been fully understood, largely because the sketchbook was twice disassembled and eventually divided between two institutions, the Trout Gallery at Dickinson College in Pennsylvania and the Beinecke Rare Book and Manuscript Library at Yale University in Connecticut. This publication is the first to draw together the disparate elements of the original sketchbook, reconstruct its original form and subsequent transformation into an album, and distinguish it from drawings by other artists at Fort Marion. It includes essays discussing the history of events, reconstructing the sketchbook, analyzing the drawings, and studying other Fort Marion sketchbooks and drawings.
Phillip Earenfight is director of the Trout Gallery and associate professor of art history at Dickinson College. Janet Catherine Berlo is professor of art history and visual and cultural studies at the University of Rochester. Brad D. Lookingbill is associate professor of history, Columbia College of Missouri. George Miles is William Robertson Coe Curator of the Collection of Western Americana at the Beineke Rare Book and Manuscript Library, Yale University.
230 pp ~ illustrated — ©2007