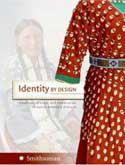 Identity by Design
Tradition, Change, and Celebration in Native Women's Dresses
Identity by Design: Tradition, Change, and Celebration in Native Women's Dresses showcases the world-renowned collection of Native American dresses held by the Smithsonian's National Museum of the American Indian. The book, edited by award-winning beadwork artist and NMAI curator Emil Her Many Horses (Oglala Lakota), presents a fascinating array of Native women's clothing from the Plains, Plateau, and Great Basin regions of the United States and Canada, dating from the 1830s to the present and including dresses, shawls, moccasins, belts, bags, and hair accessories.
In addition to superb color plates of the clothing, Identity by Design contains lively and perceptive essays by Her Many Horses, artist and professor Colleen Cutschall (Oglala Lakota), and scholar and author Janet Catherine Berlo. Striking historical and contemporary photographs depict Native life and Native women and their attire. The beautiful creations included in this book—whether made of deerhide embellished with beadwork and fringes or wool ornamented with silk ribbons and metal danglers—reveal the artistic vision of many individual makers as well as different regional styles and tribal designs. They also reflect Native history and identity during a time of intense social and cultural change.
The words, insights, and memories of a number of contemporary Native women artists who design and make dresses enrich the text of Identity by Design and add a fascinating new dimension to our understanding of this magnificent attire. The book accompanies a major exhibit at the Smithsonian's National Museum of the American Indian.
160 pp ~ illustrated — ©2007