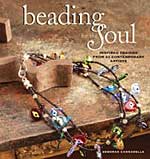 Beading for the Soul
Inspired Designs from 23 Contemporary Artists
Beading for the Soul explores the relaxing, meditative, and healing aspects of beading. It combines 26 amazing projects—including necklaces, bracelets, wall hangings, bags, a journal cover, a photo cube, an heirloom box, and a mobile—with thoughtful insights from the artists. Look inside and you'll find:
A starting point for your own creative process
Thorough, step-by-step instructions and detailed illustrations that encourage you to adapt, borrow, and combine techniques in meaningful ways
A wide range of techniques for beginning and advanced beadworkers
Basics like knotting, seed beading, peyote stitch, brick stitch, lazy stitch, ladder stitch, and bead embroidery stitches
More specialized techniques like bead weaving, beading on screen, French beaded flower making, and painting on glass
No matter what you believe about the power of beads—their protecting or healing abilities, their ceremonial or cultural significance, or just their beauty as personal adornment—you'll find your creative haven in Beading for the Soul.
160 pp ~ illustrated — ©2005